Pondlife projector Hackteria version, Zurick 2010

Pond Life micro projector – 2010 Hackteria version
DIY Micro aquarium / terrarium to simulate, manipulate and observe freshwater aquatic microenvironments [such as those associated with mosses and temporary ponds with inline optical interface.

Throughout my practice I have been interested in creating small controlled environments that need to be sustained nurtured and maintained. A repeating element is the droplet, or globule. A self-contained unit of liquid mass supported by means of its own surface tension; the strong attraction between molecules to like molecules.


Pondlife projector installation detail 1999

With the Pondlife micro projector my original aim was to create a micro-ecosystem within a globule of water, which could be sustained for live durational projection [without intervention of a video-microscope]. Microorganisms and daphnia obtained from a small temporary pond were enclosed within a small globule of water. The lens shape of this droplet, and its self-magnifying properties combined to create a projection microscope. Within the drop the life of a Daphnia was lived out under continual observation, the projected beam passing through its transparent flesh and transforming it into an image. It was possible to see its beating heart and the embryonic young inside its body.

Pondlife projector tabletop version, installation detail 2000


The 2001 tabletop system consisted of a series of interconnected jam jars and pumps. The light (halogen) light source unit provided a substitute for sunlight; although this also produced very high temperatures. Made from an old micro-fiche viewer. The original used a flat dish [oven dish], and a heat resistant glass from old slide projectors, to create the containment reservoir. Fresh algae rich water circulated into the dish along a tube. Cool water was circulated around this, and an air block infused the water with extra air. The device was kept cool with a thin 'fluid cooled lends' which tap water can be pumped through at speed to keep it super cool ever with high power light.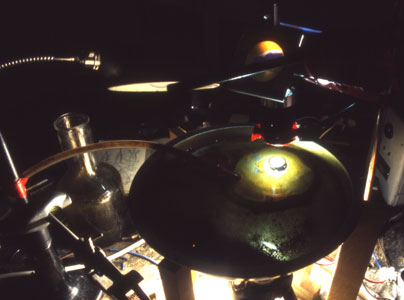 Pondlife projector tabletop version, installation detail 2000


Pondlife projector, projection detail 2000

Home
The point of this work was that the observation device itself, became both life threatening and the source of "energy input into the system" the light from the halogen bulb are similar enough to sun light tofacilitate photosynthesis. However the updated 2010 version is simplified; fitting inside one large glass Jar, and uses cool LED lights to provide illumination, so heat is no longer a problem [unless you wanted to modify it for high power light]
The Containment reservoir is a raised platform mounted on top of the jar with a lid that can be placed on top. The lid can be modified so microscope can then be placed over the top. The microscope now becomes literally integrated into the micro-system.This is a small space in which the conditions can be controlled and manipulated; it is best suited to creating a sealed space, with shallow water where temperature and moisture are variables. A water jet can be controlled to provide circulation of fresh nutrient, or food rich aerated water.
Ideal for working with animals adapted to live in the extreme environments associated with ponds puddle or mosses [eg Tardigrades] which can rapidly change temperature, and humidity. Microenvironments that are difficult to simulate. Imagine a moss clump on a roof tile, it has to withstand high temperatures and drying – followed by long periods of saturation, or cold. Some times just through the course of one day – never mind the seasonal change. The idea is to be able to observe and isolate creatures in something closely resembling their real environment, and interactions with other organisms and plants over a long period.
In the center of the containment reservoir is a glass window where light can be projected from below for the microscope above.
Within the containment reservoir is a perfect space for creating a droplet for durational sustainment. To create the droplet, an aperture must be created, a material with a well-engineered hole drilled, say 5mm diameter, and 2-3mm depth to hold the droplet, this can be filled to the maximum point, before the drop breaks and over flows. By making tiny tubes that aces this space from bellow, we can carefully control this level, and gently feed fresh water in.
This works best as a home for a larger crustacean, 1-2mm in size say a Daphnia, where by smaller organisms can be fed into the droplet or food of company, via the inlets. These inlets should be made as small as possible 100microns diameter for example would be ideal, something like a hyperemic syringe.